Be Active 30 Day Workout Calendar
30 days of
big-energy
workout motivation
Want to know the number-one reason my clients say they've hit a wall with their workouts? It's… boredom.
Sticking to the same old routine, day after day, week after week is guaranteed to sap your motivation and derail your fitness goals. (Frankly, even I struggle with doing the same workout routine three days in a row!)
Enter…
our exclusive
Be Active 30 Day
Workout Calendar
A super-simple downloadable pdf, this 30-day power-up schedule is guaranteed to get you moving – and keep you on track.
How does it work?
Every day, you click through to one of my YouTube video playlists, which I've curated to gently increase your fitness over the month. You can do the workout anytime, anywhere! I've included everything from walking workouts to total-body HIIT, so there's zero chance you'll get workout fatigue – only the energy and motivation to get back to your best self. (And yes, there are rest days in there too!)
What's included?

Workouts-at-a-glance downloadable PDF calendar

12 x fun & energetic YouTube playlists put together by your personal PT… Me!

EXCLUSIVE early access to totally new workouts (at least a month before they're released to YouTube!)

Walk, Tone, Dance, Flow, HIIT & Circuits all in one easy-to-follow program

Alternating weekly workout schedule to track how much fitter you're getting

12 weeks unlimited access to playlists PLUS an FAQ guide on how to re-create them in your own YouTube library even after they expire!
GET YOUR CALENDAR NOW FOR $27USD
Here's what UTTBers say about their Be Active experience
"I just want to say that this calendar has been just what I needed. I need accountability in my workouts and this does that for me! It also challenges me with some tough combos and lengthens my normal routine. And lastly – it's fun and I feel good!!

It's worth so much more than it costs! Hoping there are more of these in the future!"

— Ellen K

"I just want to say Thank You so much for the CALENDAR!!!! It really helps me and I feel like I get a good workout everyday. It is easy to use and I don't have to fight with YouTube to create a playlist, or do one work out all the time…. It makes me feel accomplished and motivates me to continue. So, Thank you, from the bottom of my heart!"

— Susan A

"I love the calendar and motivation it provides!"

— Kate

"I am loving the workout calendar! It is helping this back to school teacher stay motivated to workout even when she is exhausted. Thank you Gina B!"

— Michelle M

"For the last 20 weeks I have been working out 4 to 6 days a week, using Gina's YouTube channel… It was not until I purchased the 30 day calendar that I realized I was being a bit conservative with my choices. Day 3 and 4 really opened my eyes to the fact that I was not really challenging myself. But I am now, and know that I am capable of it too! Cannot wait to see that change."

— Laurie S

"Day 4 workout calendar done and dusted! Took a pic from yesterday, the first one I've not hated, well impressed. Thank you Gina for helping me find me again."

— Laura R

"I did the first day of the Calendar. It was so much fun and gave me such Joy!
I've been dancing and hip bumping all around the house! My husband has been smiling at me all day! Thank you for the Joy, Gina!"

— Lacy N

"Loving the 30-Day playlist calendar! I've been struggling with a major plateau in my weight loss journey. Thanks to the calendar, I'm working outside of my comfort zone and finding lots of new workouts that I absolutely love! Thank you, Gina!!!"

— Anna C

"Patiently awaiting the next one!"

— Alena S

"Loving the Calendar. It is great to have some structure in our busy lives. The combinations are fun."

— Yvonne B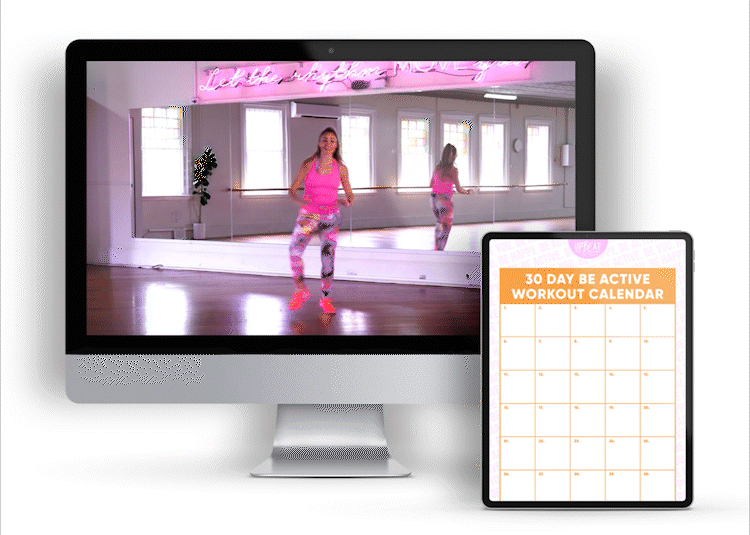 Get this month's
calendar today!
Sign up for just $27USD to reinvigorate your fitness routine and get your goals back on track!
FAQ
How do I find the workout playlists?



Once you purchase the calendar you'll receive a PDF to download in your order confirmation. The PINK titles on the calendar PDF has a link embedded to the curated YouTube playlist, so simply click the pink title and it will take you straight to the playlist on YouTube!

How do I access the playlists on my TV?



There will be different ways of accessing via your TV for different people. Some common ways include:

AirPlay for Apple users
Manually connecting your laptop/phone to your TV
Saving the playlists on your own YouTube channel library and accessing direct via the YouTube app (see below how to save playlists)

How do I save the playlist to my own YouTube account library?



Step 1) While watching a video
If you're watching a video that's part of a playlist, you'll see the playlist name at the bottom of the video player.

Step 2 ) Tap the Down arrow and Add to add the playlist to your Library.

Step 3) Click "Library" on the left hand panel to find recently saved playlists

Can I download the Calendar more than once?



Yes, if you have already downloaded the calendar on your phone and want to access it also on your computer, you will be able to download it again via your original order confirmation or if you created an account through the website, then you can log in there to find all of your previous purchases.

Can I access the links to playlists via my phone?



Yes! If you are an Apple user, you will be able to save the PDF download to iBooks, you can then click on the Pink titles like you would on your computer that will take you to the YouTube Playlist. For Android users save the PDF via Google Play books to do the same.

When I click on the playlist title it isn't playing from the first video, why?



Make sure that when you click on the playlist title that you then click PLAY ALL to ensure you are doing the videos in order.

How long do I have access to the YouTube playlists?



You have 12 weeks access to the 30 day calendar workout playlists after your purchase. During this time you are more than welcome to RE-CREATE any playlist you want to keep in your own library.

How do I re-create the playlists to continue access after the calendar links expire?



Step 1) Log in to your youtube account

Step 2) Find the youtube videos you want to save to a playlist. Use the search bar to find videos that you are looking for. You will need to do this for each video you want saved in your playlist.

Step 3) Create a new playlist by clicking Save under the video.

Step 4) Select a playlist such as Watch Later, or a playlist you've already created, or click + Create new playlist. Add to playlist.

Step 5) Name your playlist and select a privacy setting in the name field, enter a name for your playlist. Under privacy, choose whether your playlist will be public or private. If it's private, only you can view the playlist.

Step 6) Click Create.

I paid for the calendar, but have not yet received it. Why not?



You should receive a confirmation email with receipt of purchase and a link to download the calendar. Please check your Junk, Spam and Promotions folder. If you still can't find the link to download the calendar please email us at [email protected] with your order number and name and we will check this for you.

Is there a particular day that I need to start the calendar on?



Absolutely not! I don't believe in "starting on Monday", there is no time like the present so start whenever suits you!

Will I be able to purchase this particular calendar again?



No. Each calendar is a one-time only creation and as I always emphasise variety in your training. Once doors close you won't see this particular calendar again, but a new calendar will have been created for the following month.

Is it $27USD/month or a one-time payment?



This is a one-time payment. You have the option to purchase future calendars or just one – the choice is yours!